Torsion box
Demonstrator 2 is a heavily loaded torsion box. The demonstrator represents an airliner's trailing edge flap or the tail of a business jet. One skin panel of a typical box construction was produced in thermoplastic composite.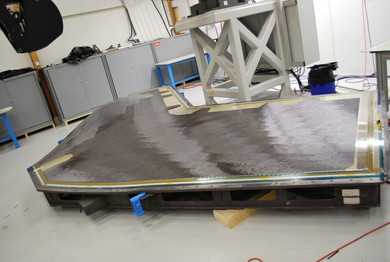 The actual demonstrator is a redesign of the horizontal tail of the Gulfstream G650 business jet. Fokker Aerostructures headed up the development, design and construction of this demonstrator.
The product was built in 2011 and then successfully underwent a complete certification testing programme in 2012. This test programme on skin panels included static testing, fatigue testing, damage tolerance testing, and a maximum load test. In anticipation of the full-scale test programme, fatigue was first studied extensively at panel level.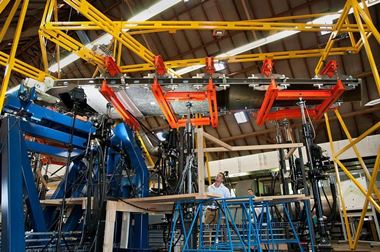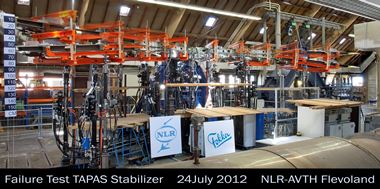 The result of the testing programme concluded that thermoplastic stiffened skin panels are approximately 10 per cent lighter in weight than conventional thermosetting composite skin panels. Moreover, the cost of a thermoplastic panel is forecast to be lower, due to a number of factors, including the simplicity of producing butt-joint stiffeners.
Key technology elements include the automatic placement of skin panels plus stiffeners, and the co-consolidation of the stiffeners.
In the TAPAS2 project a complete thermoplastic torsion box is being developed, in which ribs will be welded onto the skin panels.